Registry updates
Registry Update: A recap of 2021
The Registry is pleased to announce that in July 2021, we have formed a new partnership with Muscular Dystrophy NSW (MDNSW). We are fortunate to have the support of MDNSW alongside support from TREAT-NMD, the Australasian Neuromuscular Network (ANN), and the Save Our Sons (SOS) Duchenne Foundation.
The Australian Neuromuscular Disease Registry (ANMDR) continued to expand and grow throughout 2021. To summarise our main activities:
ANMDR was approached by a number of different stakeholders, both overseas and local, with data enquiries for SMA, DMD, and FSHD.
The ANMDR team gave talks and presentations to a number of support groups and clinical groups to spread awareness of the ANMDR and the benefits of patient registries.
ANMDR updated its core datasets for SMA and DMD to align with TREAT-NMD's latest dataset updates (version 1.2). The SMA and DMD version 1.2 core datasets were released in February and July 2021, respectively.
ANMDR began to conduct yearly updates with participants and families.
ANMDR continued to recruit participants, and a summary of recruitment for 2020-2021 can be seen in the graph below.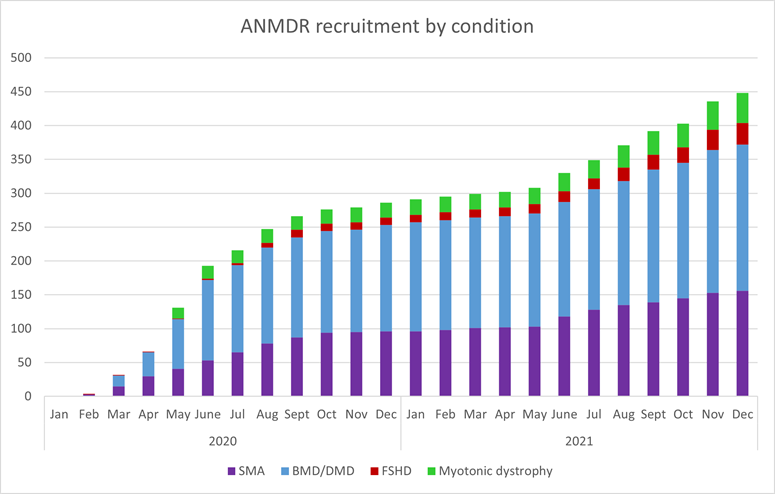 The graph above shows the overall recruitment to the ANMDR by condition. As of December 2021, there are 448 participants in the Registry.
Proudly in partnership with